Thursday 15th January

Between orientation on Monday, a day off with the lurgy on Wednesday and language classes on Friday, this turned into a very short working week. Add to that an Embassy visit and luncheon and I'd say we're doing well to get any work done at all!
Gallivanting gong for today almost goes to Clinton for this beautiful shot of a temple with the Australian Embassy in the background.
Joanna and I made it to the grand-looking Australian Embassy in plenty of time and even squeezed in a spot of sightseeing on the main drag before we needed to rendezvous with the delightful Jinny (Director of the AKF in Korea).
King Sejong (visionary inventor of the Hangeul character system) and Admiral Yi Sun Shin (protector of the seas) make grand figures standing watch in the centre of the boulevard with mountains looming majestically in the background.
We passed through the strict security at the entrance to the embassy and had the opportunity to leaf through a photo album of the making of modern day Korea in the waiting room – incredible to think that this teeming metropolis was all but flattened just 60 years ago in the Korean War. The interns arrived in dribs and drabs and eventually we were all ready to head inside through the double sets of doors to meet with the genial Mr Ravi Kewalram (Australian embassy) who formally welcomed us aboard the program. He was also kind enough to provide us with several good tips on navigating our way through Korean life (including the pertinent lesson on road safety). Following Mr Kewalram were several other key embassy personnel, each with a specific strategic mission in Korea. They included Mr Paul Schofield (Economic Counsellor), Mr Richard Fogarty (Education Counsellor) and Mr Brett Cooper (Senior Trade Commissioner).
Their advice and insights were quite fascinating and it was a shame that our meeting was short out of necessity – foreign diplomats are busy people, it would seem! Stuart was particularly chatty and was very interested in learning about Australia's relationships with North Korea, which prompted some measured and characteristically diplomatic responses from our diplomats. One thing that I learned from the conversation is that Australia is often somewhat of a whipping boy for the North Koreans, who are perhaps not so keen on attracting the ire of their powerful adversaries, America, South Korea and China, but are quite content to give the Hojus some hassle. From what I gathered, our diplomats are quite capable of giving as good as we get too!
Eventually it was time to wind up 20 questions (North Korean Edition) and Ravi advised us that such topics are often still a sore point – particularly with older Korean people and that we would do well to steer clear of the matter in general conversation.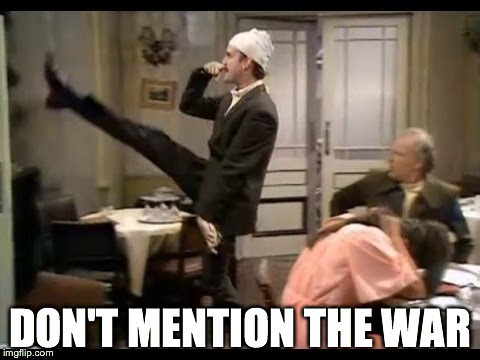 Our time in the Embassy came to an end, but we were lucky to be escorted around the corner to lunch at a fancy buffet with some of the foreign relations staff. James, Guy, Jinny, Ravi and Jess proved to be convivial company (as perhaps one might expect from diplomats) and it was really nice to have the opportunity to pick their brains in a more casual atmosphere. On another positive note, my tender stomach was given a good workout on the delicious food and (despite eating far less than I would have liked), I'm glad to say it passed with flying colours considering my recent stomach bug. Notable delicacies included the sushi and fresh fruit.
Unfortunately our luncheon came to an end far too quickly and the embassy staff made their way back to work with promises to stay in touch and meet again later in the program.
With an Olleh global store conveniently located just across the road from the Embassy, we took the opportunity to finally sort out our mobile phone SIM cards. Clinton hits the nail on the head in his excellent blog when he talks about the confounding contradiction of Korean telcos. The process for obtaining a SIM is incredibly difficult considering we were in the most connected nation on the planet! In any case, there were 3 positives of experience: 1. Getting a SIM; 2. Browsing some of the gadgetry; 3. Having a grand old yarn with Mr Elliot Brennan (AKIP Media Intern) in a fake spa (which will go down as one of my lifetime highlights, I'm sure).
There's a bit of a story that goes along with this photo – it goes a little something like this. Olleh must be aware of their ridiculous waiting times to sort out SIMs, so they've crafted a big waiting room toward the back of the store. You sign in at the service desk, collect an electronic buzzer ticket and wait until it buzzes to let you know that it's time to run the SIM acquisition gauntlet. But it's not just any old waiting room – that would be very un-Korean. This waiting room has all sorts of little themed seating arrangements. We chose the fake spa (of course).
Most of the other interns were required to go back to the office, but Clinton and I had the foresight to advise our offices that the meeting would take all afternoon and therefore bought ourselves some valuable free time. I'd like to think that we spent it wisely by walking across the road and into a history museum dedicated to King Sejong and Admiral Yi Sun Shin (our friends on the promenade).
Both men have quite amazing stories – King Sejong battled the aristocracy in order to introduce his new (and incredibly well-devised) character system – a key factor in contemporary Korea's position in the highest echelon of literacy rates worldwide.
For me, Admiral Yi Sun Shin stole the show – this amazing man rose from obscurity to become a trusted Naval tactician, was subsequently thrown into jail and abused on the false accusations of jealous superiors and finally was reinstated to a position of Admiral following several disastrously managed naval campaigns against the invading Japanese. His heroics didn't stop there, he developed the ingenious turtle ship and made use of local tidal knowledge to single-handedly turn the tide of the war by defeating a fleet of 130 Japanese ships with just 13 of his own (and without losing a single vessel).
He went on to captain several more successful campaigns and became something of a bogey figure for the Japanese navy before a stray arrow from a retreating ship proved his downfall. Such a fascinating life and the Koreans certainly have a flair for retelling it – a 1.5m Lego model, electronic picture book, turtle boat reconstruction, oar rowing and cannon-firing games bringing the story to life.
They even have a photo opportunity and a 4D movie experience – perhaps the Perth museum could take a few notes?
We wandered our way around for a few hours until the others began to clock off and ended up meeting some of the crew (Michael, Lucinda and Joanna) out in Myeong-dong (an aforementioned shopping district) for some chow. But not before Clinton and I had chanced our arm at some calligraphy! I think we were about on par with the 4 year olds studiously spreading ink next to us.
At dinner, we were once again blessed with the presence of the agreeable Jaei and after dinner we experienced a Korean novelty: photo booths. It seems that the locals have a real fondness for dressing up in ridiculous hats and taking even more ridiculous photos of themselves before making adjustments with "nice-looking and fun scribble."
It turned out to be a laughter-filled way to spend 45 minutes and we came out with some truly stunning shots (particularly of supermodel-turned-Asian-history-student Michael Varnay). Of course, we left the AKIP legacy by leaving behind one of our stickers on the jam-packed sticker wall. I feel a little sorry for our friends just below us who rated themselves a woeful 9/22… Seems like someone's in need of a positive self-esteem shark.
The evening's entertainment over, we each retired to our respective home-stays. I was somewhat surprised to find Eoma still awake and even more surprised to find her engrossed in front of The Scorpion King on television. To be honest though, the sight of Dwayne Johnson pulverising his way through hundreds of enemies dressed in little more than a loincloth is a spectacle that almost compensates for the asinine plot and dialogue. I'm not ashamed to admit that I loitered in the loungeroom until after the climactic final battle had concluded and on that heroic note, I concluded my equally heroic day.